Limassol's casinos are yet another addition to the Cyprus gambling industry. The country has managed to take the role of a leading player in the gambling scene in the Eastern Mediterranean thanks to the number of companies that choose it for investment in online and land-based casinos.
Plus, the casinos that have been built in Limassol are a new breath of fresh air for tourism as well, as they attract many visitors from neighboring countries and beyond.
In addition, the Limassol casinos have created several jobs and have been extremely well received by the local public, who have seen their city develop rapidly over the last few decades.
Nowadays, the casinos in the occupied area seem to be weakened quite a bit by the efforts made in Limassol, with these land-based casinos being able to contribute quite a bit to the local, as well as the state economy.
Table of Contents
What games do Limassol casinos offer?
Limassol casinos have included a wide range of games in their selection to cater for even the most demanding players. So you'll find tables with real croupiers to play favorites such as roulette, blackjack and Texas Hold'em poker, as well as some games such as Stud Poker, Mini Punto Banco and Russian poker that appeal to a more specialist audience.
In total you will be faced with 33 tables to choose from.
Beyond the casino tables, there are more than 255 slots to play, some with more traditional and simple games, some with more sophisticated software, impressive graphics and exciting bonuses.
Tables with real croupiers
Table games like Roulette, Blackjack, Texas Hold'em Poker, Stud Poker, Mini Punto Banco, Russian Poker etc.
Slot Machines
C2 Casino & City of Dreams in Limassol
Currently there are only 2 casinos available in Limassol. Well, just 1 to be honest. The C2 Casino. The City of Dreams will be finished in 2023.
C2 in Limassol

C2 casinos are by far the most popular on the Greek side of Cyprus, attracting thousands of visitors every year. The company's casinos are a destination and combine luxurious aesthetics with exciting gaming.
You will find Cypriot and foreign croupiers to enjoy your game as you wish, choosing from a plethora of options.
The C2 Casino is also based in Paphos and Nicosia.
The City of Dreams Mediterranean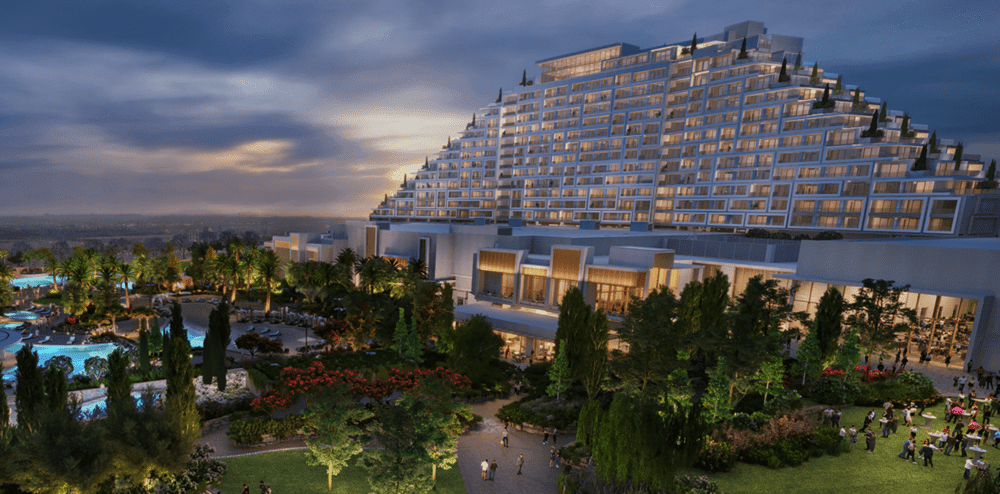 Another landmark destination for Cyprus and Limassol is in the works, the City of Dreams, which is expected to officially open its casino in 2023.
It is part of the impressive multi-destination resort project being developed by Melco, which also owns C2 Casinos.
Of course, the casino in this case is another luxury addition to the whole project that will have a total of:
500 rooms,
restaurants,
cafes,
spas,
gyms,
pools,
exhibition centres,
shops etc.
The City of Dreams casino will be the biggest land based casino in the whole EU.
What else you will find in Limassol casinos
It is not just a gambling venue, but also a meeting and entertainment spot for many Cypriots and tourists alike. Limassol casinos are a destination in themselves, offering facilities that guarantee a luxurious experience. The restaurant-bistro that you will find inside the casino is a benchmark and can take you on a journey to flavors from all over the world.
Whether you want to sample some of its gourmet cuisine, or prefer to enjoy a drink in the uniquely aesthetic space, you are welcome. Admission is of course free for both the casino games and the other areas of the facility.
Requirements for playing at Limassol casinos
Although casinos in general are strict in their rules, one will find that the requirements of Limassol casinos are quite realistic. Obviously, young people under the age of 21 are not allowed to enter, and transparency is promoted in terms of participants.
You must have an identification document with you, and you are not allowed to carry weapons, knives and other dangerous objects. All of this is done to guarantee the casino the ideal experience for all players, as well as people who come to visit the restaurant or bar. In terms of dress, the dress code is not strict and does not require formal attire, but it does require a decent and elegant smart casual level.
Also, it is mandatory for players to register at the casino and be issued (free of course) with the relevant membership card so that they can play the slots, roulette and other games.
Christos Glaros has been in to gambling for over a decade. He worked in land based casinos, online casinos and played professional poker for 5 years.
1 year ago he joined our team at bestonlinecasinocyprus.com to share his knowledge with our readers. Since he worked at casinos, he exactly knows what to look for when evaluating if it's worth spending money at an online casino or not. Because of his connections we also can make sure to get the best bonus deals possible for our readers.